Exchange Server Mail flow rule
Sometimes we want to reject Exchange mail sender according to a certain criteria. Suppose you want to block all e-mails addressed to a particular domain. This is easily done in Exchange admin center. Create a new Exchange Server Mail flow rule, as shown below: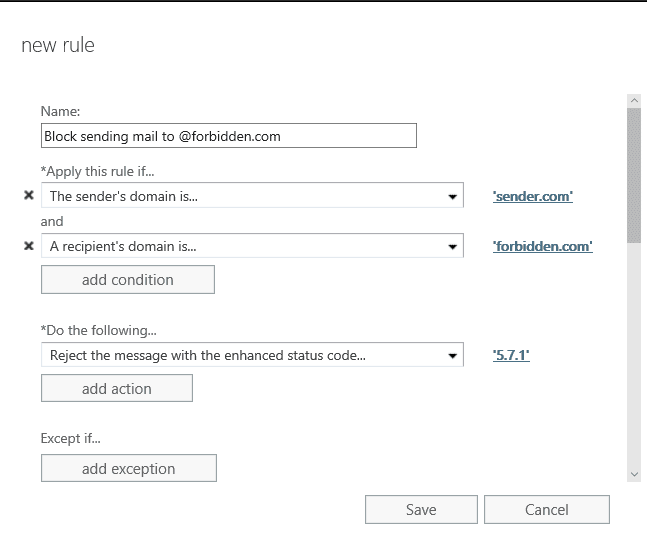 After selecting the sender and recipient domain, you have three options:
"Reject the message with the explanation", where you can enter a short message why message was rejected
''Delete the message without notifying anyone''
''Reject the message with the enhanced status code'', where you must enter so called NDR (Non-delivery reports) code.
NDRs are system messages that report the delivery status of a message to the sender. NDRs are generated when a message cannot be delivered. If the computer can detect the reason for the failed delivery, it maps the reason onto a status code, and a corresponding error message is printed. For NDRs, most numeric error codes are reported in the form of "5.X.X" and are described as permanent failures.
More about NDRs: https://technet.microsoft.com/en-us/library/bb232118(EXCHG.80).aspx
In Exchange on-premises server you can use PowerShell cmdlet
Get-SystemMessage to view all NDRs in your organization, or use parameter
Get-SystemMessage –Original to display just embeded ones.
Any system message can be rewritten, if you are not satisfied with the original.
Examples:
Get-SystemMessage En\Internal\5.7.1 Shows the original message for the 5.7.1 error code for english language
Set-SystemMessage En\Internal\5.7.1 -Text "Write here your custom message" Overwrites original message with custom message.
Setting Exchange Server Mail flow rule is easy job.